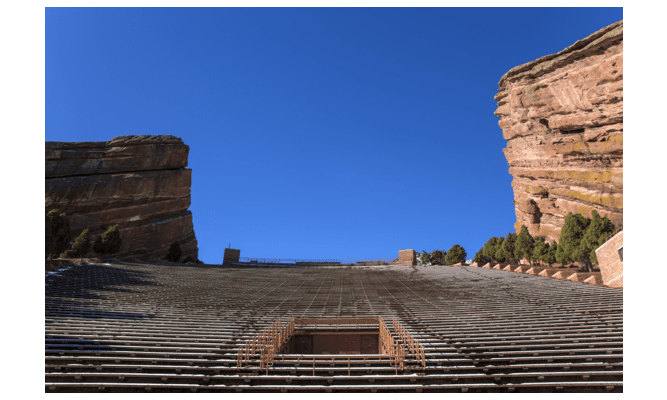 Located just 10 miles west of Denver, Red Rocks Amphitheatre is one of the most iconic venues in the world. At 6,450 feet above sea level, Red Rocks is a geological phenomenon offering the only naturally occurring, acoustically perfect amphitheater in the world. With towering, red sandstone rock that surrounds the venue, visitors are able to experience a window 250 million years back in time, via the unique geological features.

Since opening as a venue in 1941, Red Rocks Amphitheatre has welcomed a countless number of musical legends onto its stage. The Beatles, U2, Tom Petty and the Heartbreakers, Radiohead, The Grateful Dead, and the Jimi Hendrix Experience are just a few top names from the impressive archive of musical performers. In 1911, Mary Garden was the first nationally recognized musician to play in the natural amphitheater. After her performance, the opera-star posed that, "never in any opera house in the world would I have found more perfect acoustic properties," and she predicted, "that someday 20,000 people will assemble here to listen to the world's greatest masterpieces."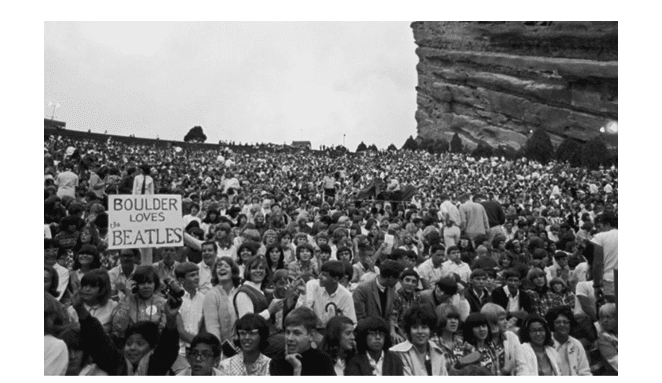 In 1947, Garden's prediction was realized, as 60,000 people attended the Easter morning service that year, solidifying the popularity of the park. Now, the venue holds only 9,525 people, adding to the intimacy of the performances, especially when considering how arena bands that perform for 21,000-56,000 people a night (such as U2) also perform in the theatre.

However, Red Rocks isn't only an incredible venue for hearing music. Each year, the amphitheater attracts over 1.5 million visitors, almost three times the number of concertgoers. From runners to those participating in their weekly Barre and Yoga on the Rocks exercise classes, to stargazers appreciating the clear skies and spectacular panoramic views of Downtown Denver, Red Rocks is so much more than your average concert hall. The acoustically perfect geological formations alone are enough to attract visitors to the park.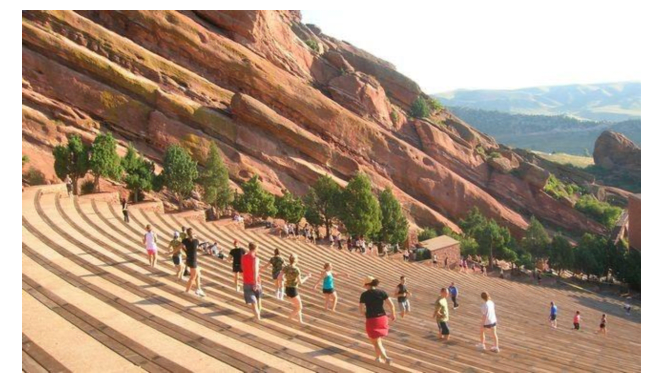 As a venue Red Rocks is renowned for it's spiritual concert experiences. This summer come hear Tedeschi Trucks Band, Sylvan Esso, and Jackson Browne; or come out to the two-decade-long annual Blues Traveler show on Fourth of July. Although our annual giveaway winner has been selected for the Imagine Dragons show, enter my monthly giveaway for the opportunity to win an adventure of your own this summer!
Notable Upcoming Shows:
Lady Antebellum's playing June 25th along with a screening of Yellowstone, starring Kevin Costner as part of Red Rock's SeriesFest a live music and TV Event. Tickets range from $70-$210.
July 16th, Grammy Award-winning band, Imagine Dragons is performing. Tickets range from $250-$750.
Up-and-Coming band, Portugal the Man, is headlining on August 8th. Tickets range from $40-$75.