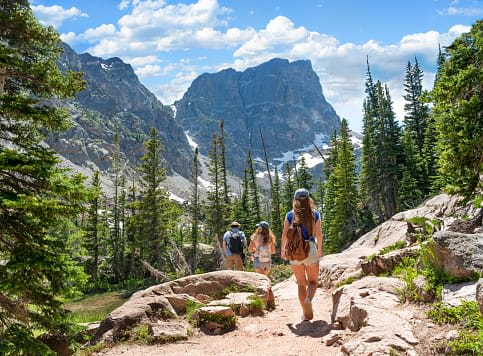 Summertime Fun in Denver
As summer quickly approaches, we are all thinking about the variety of outdoor activities to do. You may be wondering, where is the best location to enjoy all summertime has to offer? Luckily, Denver offers tons of activities all year round, but the summertime is especially spectacular!
Food and Beer Festivals

Denver Botanic Gardens
The Denver Botanic Gardens is a beautiful oasis located in the heart of the city. During the summertime, the gardens are in full bloom, while they showcase an array of vibrant flowers and plants. They often host outdoor concerts, yoga classes and other events in this truly beautiful piece of Denver.

Outdoor Concerts
Denver hosts numerous outdoor concerts and music festivals during the summer months. Red Rocks Amphitheatre, a stunning natural venue, offers a variety of performances ranging from rock and pop to classical and jazz. If you love and enjoy live music, the Red Rocks Amphitheatre is a must-see!

Hiking and Outdoor Activities
With its close proximity to the Rocky Mountains, Denver is a gateway to countless hiking and outdoor adventures. You can deeply explore and hike the trails in nearby national parks such as
Rocky Mountain National Park
. There is also plenty of camping, biking and fishing in the surrounding areas.

Sporting Events
Denver is home to several professional sports teams, including the Denver Broncos (NFL), Denver Nuggets (NBA), Colorado Rockies (MLB) and Colorado Avalanche (NHL). Catching a game during the summertime, for the seasonable sport, or attending a tailgate party is a great way to embrace the local sports culture.

Water Activities
Denver is home to various lakes and reservoirs where you can take advantage of the water activities like paddleboarding, kayaking and boating. Cherry Creek Reservoir and Chatfield Reservoir are popular spots for water sports and peaceful relaxation.

Farmers Markets
Denver hosts numerous farmers markets where you can always find fresh produce, local crafts and artisanal goods. The Union Station Farmers Market and Cherry Creek Farmers Market are popular choices where you can explore and support local businesses.
The city of Denver offers a wide range of summertime activities to suit many different interests and preferences. There really IS something for everyone to enjoy during the summer months, and ALL year round! If you are considering a move to the Denver area, and you would like to learn even more about this incredible city, contact the BEST realtor in town,
Jason Cummings
and his team. Jason offers clients the comfort of knowing they have an outstanding advantage when it comes to buying or selling their greatest personal and financial asset, a home.
Jason's mission is to elevate the real estate experience for all of his clients. Jason has developed an innovative process for selling and buying homes that creates a truly luxurious experience, without sacrificing the level of attention and support that clients deserve. Contact Jason Cummings at 720.409.7330 and visit
www.jasoncummingsdenver.com
.