Did you know that February 28th is National Floral Design Day? A day to appreciate the unique and creative art form of floral arrangements. Flowers have a magical power. Their beauty, vibrant colors and aromas instantly lift and boost the moods and spirits of those they encounter. I think everyone would agree that is something to celebrate.

In the spirit of National Floral Design Day, we met with the team at Amore Fiori, a local flower shop, in Stapleton's East 29th Avenue Town Center, to learn more about their story.

The shop's story is quite unique. Its roots began in Italy where shop owner, florist, entrepreneur and romantic, Michelle Stefanon and her husband took a spontaneous trip. While traveling abroad Michelle had somewhat of an epiphany and that is where Amore Fiori's story begins. "As we sat in a piazza, I took in the colors and fragrances of a nearby flower market, and I thought, that's what I want to do! And so, began our passion for Amore Fiori, our love of flowers." The look and feel of her shop is "inspired by that same sense of community we found in our travels and the beautiful colors, enticing smells, and relaxing simplicity of the famous Campo de Fiori flower market in Rome, Amore Fiori is as much an experience as it is a unique shop."

They strive to stay authentic to their mission as much as possible by supporting local vendors and growers, making their shop as welcoming and diverse as possible, and being involved in the community. Being a small business and a locally owned shop allows them to offer a more customized experience and personal touch than the larger flower shops. They enjoy the opportunity to express their creativity in every arrangement and make sure it is exactly what the customer envisions. In an effort to stay active in the community they joined the Greater Stapleton Business Association (GSBA) and they try to attend every meeting. When stocking materials for arrangements they do their best to use local wholesalers to support a healthy and blooming local economy.

During our visit to Amore Fiori we got to meet with in-house floral designers Kellie & Tara and received a behind the scenes look at their design studio. These artists of flowers have an eye for color, style and perspective. Floral design can complete a space, complementing existing structures and bringing brightness and color to them. It is truly a talent and these girls have it! Lead designer Kelli says everyday she is blessed with "an opportunity to brighten someone's day through the beauty of nature and I get to do what I love day in and day out, create."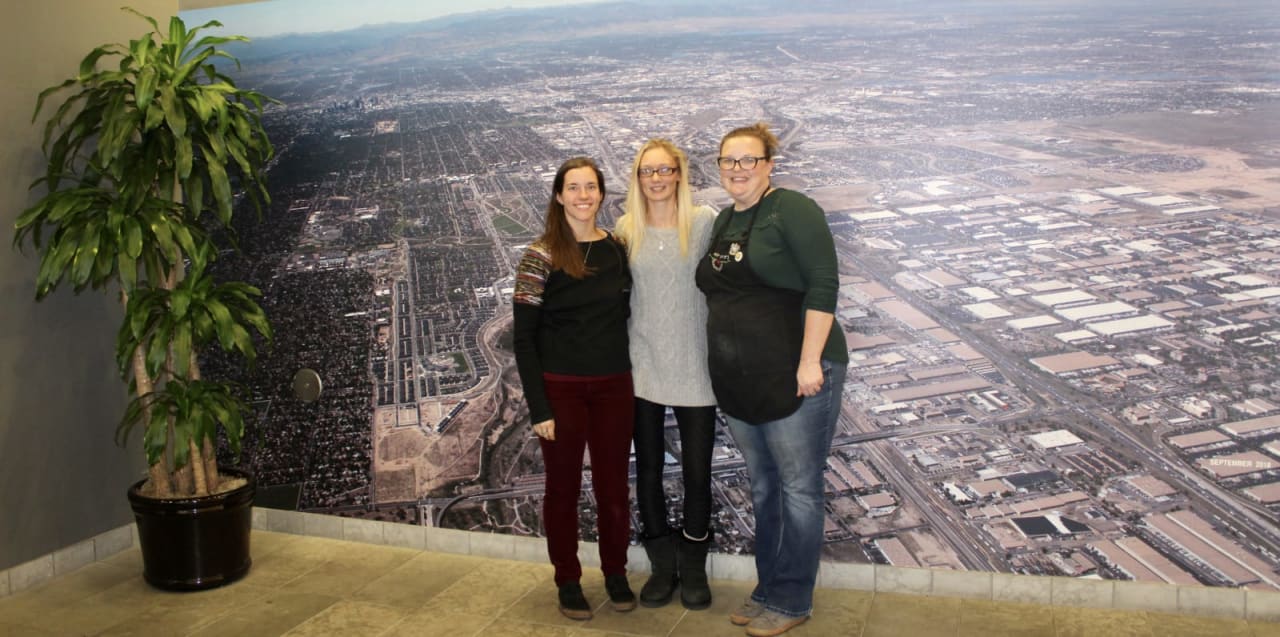 While at Amore Fiori they put on a showcase for me and designed they vibrant floral arrangement featured in the picture to the right. Of course, we had to get some live footage to share their work with all of you for #floraldesignday!

It was a delight to meet this team and see the the passion behind what they do. Making their customers happy is top priority - and that is apparent. "We like to ensure there is something in our shop for everyone and every occasion." If you love flowers and/or have a special engagement coming up soon Amore Fiori has you covered from holidays, to weddings, special events, or just an arrangement to brighten yours or someone else's day.